Stephanie Tucker Little Does the Magic Trick

Reviewer:

Country Home editor Christian Lamitschka, Radio show host of Radio4humans.
(English translation by Charlotte Bailey-Smith).
Stephanie Tucker Little does the magic trick to make a musical journey through almost all musical variations of music on one album. From Jazz over Country to Gospel, everything can be found that she knows how to play on her guitar.
Letters From Italy
by medicinemusic
Dear Stephanie,

I got your cd from Rob Ellen and it's great! The grace and the beauty you put in every song make the album a brilliant one. Many of the songs were known to me and your covers are very good, especially in Things We Said Today, Here Comes The Sun, Big Yellow Taxi and Landslide (among my faves!) while the title track is pure poetry!!!!

Thanks for everything!
All the best,
Remo Ricaldone,
"Happy Trails"
on Susa Onda Radio Italy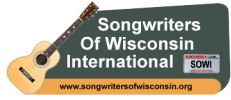 For her debut, singer and multi instrumentalist, Stephanie Tucker Little, does not make it easy on herself: she chose a repertoire, that includes as many classics, as well as lesser known songs. This can be risky: because the listener will unconsciously compare your version to the one they are most familiar with. Only the title song and "Sunny Beaches" were penned by Stephanie, and I have to admit, these songs stand up very well against the songs, all of us can whistle along, like Mason Williams' Classical Gas, Joni Mitchells Big Yellow Taxi, Here Comes The Sun by George Harrison, Presley's Love Me Tender, Things We Said Today by Lennon & McCartney and real traditionals like Amazing Grace and The Water Is Wide. You get the idea: this is a nice mix of folk and pop songs, and to keep this going over well, it just needs to be done, a tiny bit better. And it has been done better: Stephanie plays darn good guitar in a dozen different styles, and she sings better that average. In this manner, she has made a very nice debut album, filled with a variety of songs, well played with outstanding vocals. One slight negative: A pure acoustic album, like this, may get old hat, real quick, unless the vocals continuously keep jumping out. Maybe add a little harmony in duet form, next time.